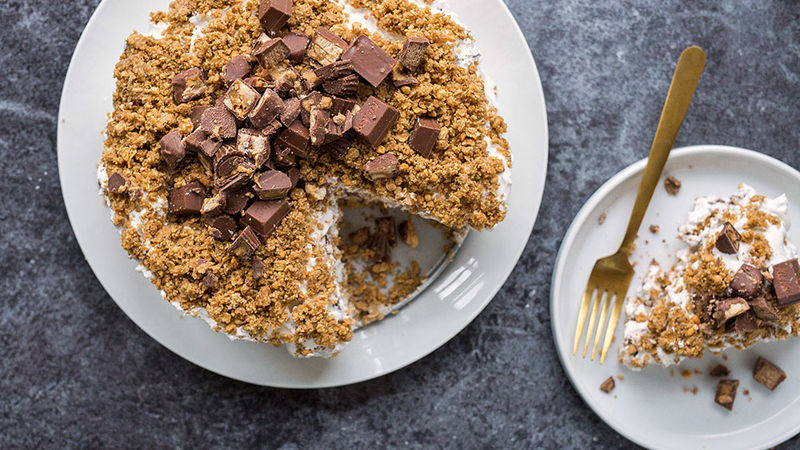 2

bags (11 oz each) Nature Valley™ Oats 'n Honey Protein Granola
1

cup (2 sticks) butter, melted
1

cup brown sugar
1

container (16 oz) whipped topping
1

can (14 oz) sweetened condensed milk
1

package (8 oz) Snickers™ bites Unwrapped, coarsely chopped
1

package (8 oz) Reese's™ Minis Unwrapped Mini Cups, coarsely chopped
1

package (8 oz) Kit Kat™ Minis, coarsely chopped
Non-stick cooking spray
Line the bottom of a 9-inch springform pan with parchment paper. Spray the sides of the pan with non-stick cooking spray.
Place granola in a food processor or blender and pulse until fine crumbs form. Add butter and brown sugar; pulse until well mixed. Press about 1 1/4 cup of crumbs into the bottom of the prepared pan.
Stir together whipped topping and condensed milk. Divide evenly between 3 large bowls. Add one type of candy to each bowl of whipped topping, reserving a small amount of each candy for garnish. Stir each bowl until well mixed.
Spread one bowl of candy bar whipped topping over the crust.
Add another 1 1/2 cups of crumbs followed by another candy bar-whipped topping layer. Form your final layer with 1 1/4 cups of crumbs and the third bowl of whipped cream mixture. Gently rap the pan down on the table top a few times to make the layers settle. Top with remaining crumbs and candy. Freeze 8 hours or overnight.
Remove from the freezer about 20 minutes before serving. Slice and enjoy!
Attribution: Photo & recipe Compliments of tbsp