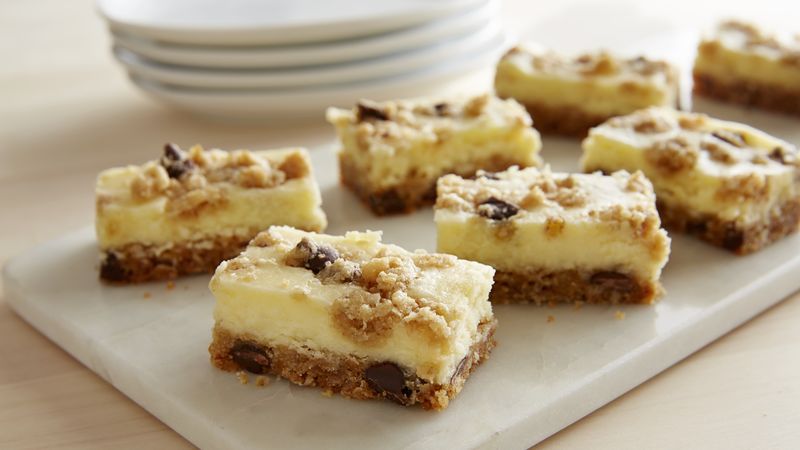 My grocery store was giving away little booklets with recipes/coupons. This recipe was in that booklet. I Also found the recipe/photo on Betty Crocker's website.
1/2 cup cold butter
1 pouch of oatmeal chocolate chip cookie mix, Betty Crocker
Two 8 oz package of softened cream cheese
3 eggs
1 cup granulated sugar
1 tsp vanilla extract
Preheat oven to 350◦
Grease/flour or spray a 13 x 9 pan with cooking spray. Set aside.
In a mixing bowl. Using a fork or pastry blender, cut butter into the cookie mix.
Stir in 1 egg and blend until mixture is crumbly.
Press 3 cups of the mixture into the pan. Reserve the remainder.
Bake for 15 minutes.
In a small bowl, using a mixer on medium speed, beat cream cheese, sugar, eggs and the vanilla until smooth. Pour this over the crumb mixture.
Sprinkle the remaining crumb mixture over the cream cheese mixture (Step 5)
Bake for 25-30 minutes. Cool for 30 minutes. Refrigerate for at least 2 hours before serving.
Store in refrigerate.
Image & recipe are the courtesy of Betty Crocker