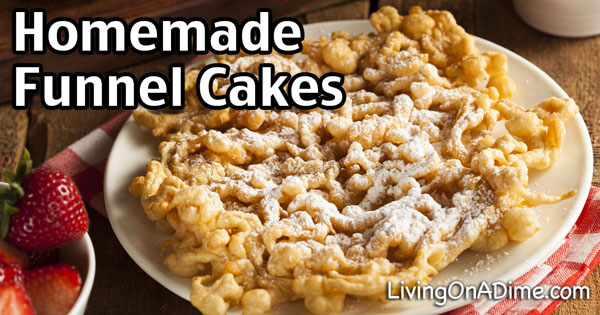 1-1/4 flour
2 Tbs sugar
1 tsp baking soda
3/4 tsp baking powder
1 tsp salt
1 egg
3/4 cup milk
Combine the dry ingredients. Set aside.
In another bowl, mix together the milk and add to the above dry ingredients.
Beat until smooth.
Pour some oil into a skillet and heat to 375

◦

You can eithere pour 1/4 cup of batter into a funnel, and allow it to drizzle over the hot oil in a spiral. I prefer putting it into a squeeze bottle.
Fry for 2 minutes on each side, turn when it is a pretty golden brown.
Remove from oil and place on some papertowel.
Sprinkle with xxx sugar.
Makes about 6 funnel cakes
I got this recipe from
Living On A Dime Cookbook.
I purchased the e-book version. I really enjoy it. The book includes over 1,200 money-saving recipes, snack ideas, menus, gift basket ideas and much more.
Check it out!
Feature image and recipe is the courtesy Living on a dime
The following is a sponsored post/ad