Sunday, May 14, 2017
1⁄2 onion, diced
1 stalk celery, diced
1 clove garlic
1⁄2 carrot, shredded
1 tbsp olive oil
3 to 4 chicken breast, cooked and diced
4 cup chicken stock
1 salt, to taste
1 black pepper, to taste
1 tsp thyme
16 oz potato gnocchi
2 cup half-and-half
1 cup fresh spinach, chopped
Saute onion, celery, garlic, and carrot in olive oil over medium heat until the onion is translucent.
Add chicken breast, chicken stock, salt, pepper, and thyme. Bring to a boil, then add gnocchi. Gently boil for 4 minutes, then turn down the heat to a simmer for 10 minutes.
Add half-and-half and spinach, then cook for another 1-2 minutes until the spinach is wilted.
Tuesday, April 25, 2017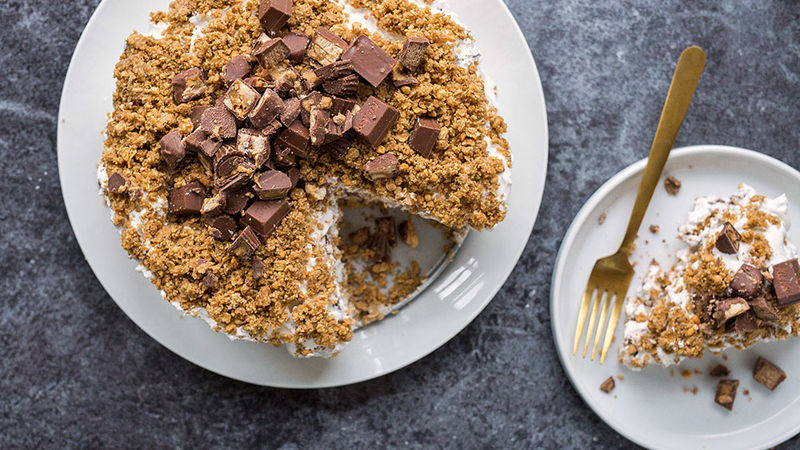 2

bags (11 oz each) Nature Valley™ Oats 'n Honey Protein Granola
1

cup (2 sticks) butter, melted
1

cup brown sugar
1

container (16 oz) whipped topping
1

can (14 oz) sweetened condensed milk
1

package (8 oz) Snickers™ bites Unwrapped, coarsely chopped
1

package (8 oz) Reese's™ Minis Unwrapped Mini Cups, coarsely chopped
1

package (8 oz) Kit Kat™ Minis, coarsely chopped
Non-stick cooking spray
Line the bottom of a 9-inch springform pan with parchment paper. Spray the sides of the pan with non-stick cooking spray.
Place granola in a food processor or blender and pulse until fine crumbs form. Add butter and brown sugar; pulse until well mixed. Press about 1 1/4 cup of crumbs into the bottom of the prepared pan.
Stir together whipped topping and condensed milk. Divide evenly between 3 large bowls. Add one type of candy to each bowl of whipped topping, reserving a small amount of each candy for garnish. Stir each bowl until well mixed.
Spread one bowl of candy bar whipped topping over the crust.
Add another 1 1/2 cups of crumbs followed by another candy bar-whipped topping layer. Form your final layer with 1 1/4 cups of crumbs and the third bowl of whipped cream mixture. Gently rap the pan down on the table top a few times to make the layers settle. Top with remaining crumbs and candy. Freeze 8 hours or overnight.
Remove from the freezer about 20 minutes before serving. Slice and enjoy!
Attribution: Photo & recipe Compliments of tbsp